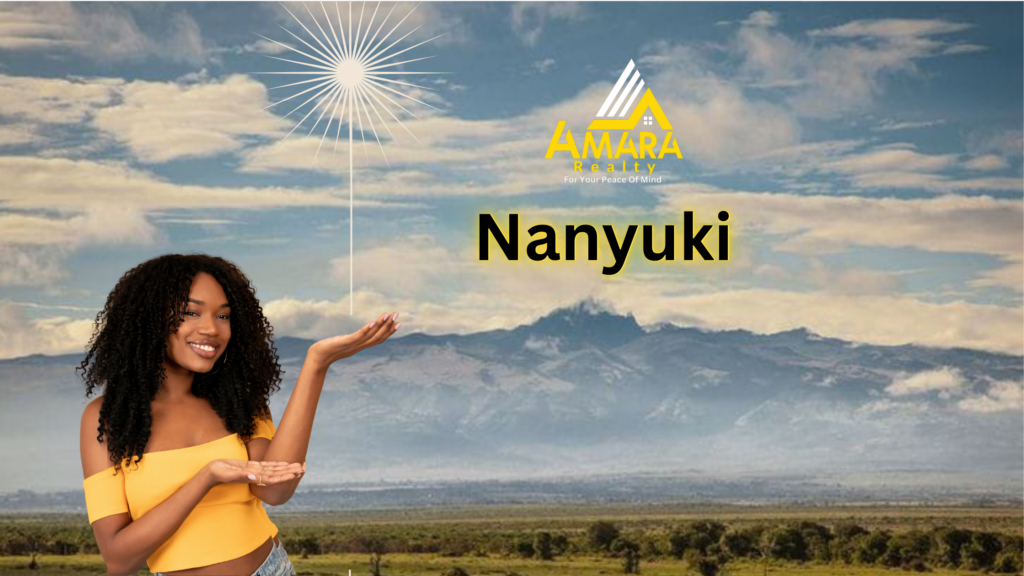 Experience the Pinnacle of Blissful Living at Amara Hope Gardens, Nanyuki's Finest Address
Amara Realty Company Limited is your trusted partner for prime land in Kenya. Our dedicated team simplifies land ownership, offers competitive prices, and delivers exceptional service to help you achieve your real estate goals. Let us guide you toward your dream property in sought-after areas like Ruiru, Thika, Kangundo Road, Nanyuki, and others. Contact us today and make your real estate aspirations a reality.
Introducing Amara Hope Gardens an extraordinary project crafted by the esteemed Amara Realty Company Limited. Nestled in the captivating town of Nanyuki, specifically in the vibrant Jua Kali area, this development offers a gateway to prosperous living in the heart of Laikipia County. Allow us to unveil the exceptional features and unparalleled opportunities that await you in this Kenyan paradise.
Nanyuki: A Haven of Natural Splendor and Investment Potential Immerse yourself in the breathtaking beauty of Nanyuki, a town known for its mesmerizing views of Mount Kenya and its growing reputation as a sought-after tourist destination. As the town continues to flourish, fueled by extensive infrastructure developments, the demand for land investments has soared. Amara Hope Gardens presents you with the chance to be a part of this thriving landscape and embrace a future filled with promise.
Unrivaled Investment Prospects Amara Hope Gardens in Nanyuki's Jua Kali area has been thoughtfully designed to cater to your aspirations and investment goals. Whether you seek a 1/4-acre parcel, a 1/2-acre plot, or a full acre, we offer a wide range of options to suit your preferences. With competitive and accessible land prices, accompanied by flexible installment plans, securing your slice of paradise and building a prosperous future has never been easier.
A Location of Sublime Beauty and Convenience Strategically positioned, Amara Hope Gardens grants you effortless access to essential amenities and captivating attractions in Nanyuki. Enjoy the convenience of proximity to schools, hospitals, shopping centers, and recreational facilities, ensuring a life of comfort and ease. Moreover, the project's advantageous proximity to the Nanyuki airstrip guarantees seamless travel connections for both residents and visitors.
Invest with Confidence in Amara Realty At Amara Realty Company Limited, we stand as your unwavering partner, guiding you throughout your real estate journey. With an impeccable reputation, extensive market knowledge, and an unwavering commitment to excellence, we ensure that your investment in Amara Hope Gardens is not only financially rewarding but also a source of fulfillment and contentment in every aspect.
Unlock the Gateway to Limitless Prosperity Seize the opportunity to be part of the flourishing community at Amara Hope Gardens, Nanyuki's most prestigious real estate project. Embrace a life enveloped in awe-inspiring beauty and a future brimming with possibilities. Contact us today to discover more about this exceptional opportunity and take the first step towards a life of abundance and unparalleled success.
#AmaraHopeGardens #InvestInNanyuki #ProsperousLiving #NanyukiParadise #LandInvestments #RealEstateOpportunities #AmaraRealtyCompany #JuaKaliArea #YourSliceOfParadise #UnlockYourFuture